Customize Animatronic Model As Photo
Kawah Dinosaur Factory can customize almost all animatronic models for you. We can customize them according to pictures or videos. Preparation materials include Steel, Parts, Brushless Motors, Cylinders, Reducers, Control Systems, High-density Sponges, Silicone, etc. Customized animatronic model is made by modern technology, with many processes. There are more than ten processes, all of which are completely hand-made by the workers. They not only look realistic but also move wonderfully.
If you are interested in customizing, please contact us and we will be happy to provide you with a free consultation.
Theme Park Ancillary Products
The product line of Kawah Dinosaur is very rich. We can tailor a lot of supporting products for the theme dinosaur park, including animatronic egg, dinosaur slide, dino trash can, park entrance, dinosaur bench, fiberglass volcano, cartoon dinosaur, corpse flower, Halloween & Christmas animatronic models.
WHAT'S AN ANIMATRONIC TALKING TREE?
Talking trees are a form of sapient trees in mythologies and stories.
We use a high-standard steel frame with the latest brushless motors to give the model smoother movements. All are hand-sculpted to ensure that the high-density foam can perfectly wrap the steel frame.
The Animatronic talking tree products produced by Kawah are well received by customers.
It can speak many languages and make movements. It's perfect for attracting attention.
Talking Tree Main Materials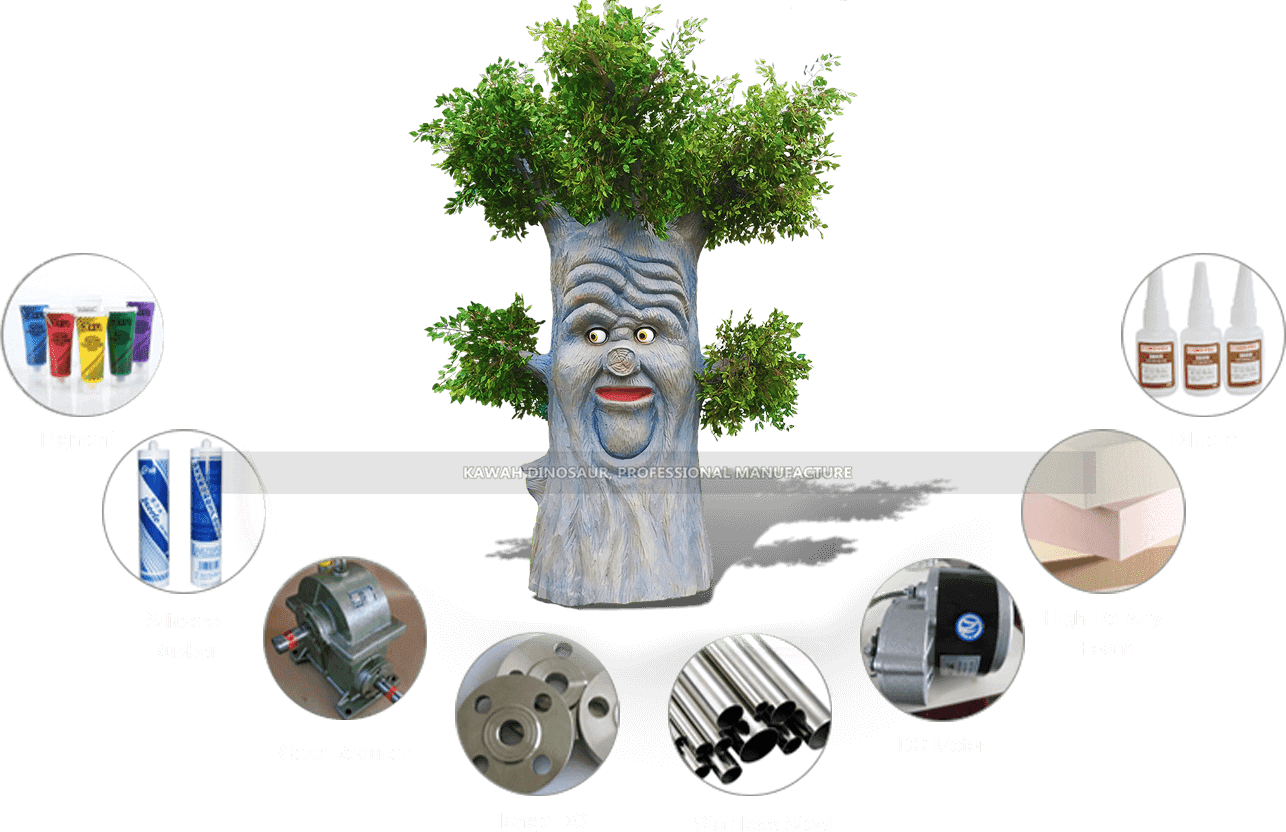 | | |
| --- | --- |
| Main Materials: | High-density foam, National standard stainless steel frame, Silicon rubber. |
| Usage: | Dino park, Dinosaur world, Dinosaur exhibition, Amusement park, Theme park, Museum, Playground, City plaza, Shopping mall, indoor/outdoor venues. |
| Size: | 1-10 meters high, can also be customized. |
| Movements: | 1. Mouth open / close.2. Eyes blink.3. Branches moving.4. Eyebrows moving.5. Speaking in any language.6. Interactive system.7. Reprogramming system. |
| Sounds: | Talking as an edited program or custom programming content. |
| Control Mode: | Infrared sensor, Remote control, Token coin operated, Button, Touch sensing, Automatic, Customized, etc. |
| After Service: | 12 Months after installation. |
| Accessories: | Control cox, Speaker, Fiberglass rock, Infrared sensor, etc. |
| Notice: | Slight differences between the objects and the pictures because of handmade products. |
Customized Products Video